The first week of Pre-K can be quite challenging, with some of the children still suffering from separation anxiety and most of them just trying to get used to a new environment. I do find that jumping into a routine right away is the easiest way to get the children comfortable and ready to learn. That's why I have prepared this Back to School lesson plan with hands-on activities, games, centers, art, science, cooking and STEM activities and some circle time games, songs and stories.
How it works:
Simply click on this link, which will take you directly to the free Back to School lesson plan. There is also an activities page, where I have typed out all the instructions for each lesson. The Lesson Plan is interactive which means you can go directly to the downloadable centers, crafts and other things that might be needed by clicking on the images. See, easy as 123!
Back to School Activities
---
Creative Space
Each morning, there is a 30 min space, where I set out play dough, stamps, scissors, lacing beads and cards, puzzles and blocks. Children can choose which activity they would like to do after they have put away their bags.
---
Back to School Circle Time
For Circle Time everyday we do the morning routine, which includes the Calendar and 'Number, Color, Shape and Letter of the week'. We then read a story, sing a few songs and do a group activity. Below I have compiled the best story books that goes with the 'Back to School' theme and some fun movement songs.
On every Monday we change the 'Classroom Helpers' Classroom Jobs. Each child has a name card on a popsicle stick, and they get to choose their job of the week.
---
Circle Time Activities
'What's your name?': Everyone sits in a circle. Roll a ball across to different children. Ask 'What's your name?'. Children introduce themselves and roll ball to next child.
'Who's under the blanket?': Everyone sits in a circle. Ask everyone to close their eyes. Throw a sheet over one child and ask children to guess who it is. Continue until everyone had a turn.
'Where's your name?': Sit in a circle. Hide all the children's name cards underneath square pieces of paper. Each child gets to lift a square to see if it's their name. If not, they put the square back, and the next child has a go. Children get to keep the name card if it is theirs.
'Name Treasure Hunt': Hide all the name cards around the classroom. Ask children to find theirs.
---
Circle Time Songs
Six action songs for the first week of school to get those bodies moving and grooving while making school so much more fun. Click on the image to head over to the post.
---
Back to School Books
20 of the best and most engaging picture books for the first week of school. Click on the picture to read what these fun books
are all about.
---
Back to School Literacy Activities
This All About Me' Printable Book consists of 7 pages: 'This is my name …', 'These are my handprints…', 'This is my picture…', 'My favorite animals are…', 'This is my family…', 'My favorite color is …' and 'My favorite foods are…'. We completed 2 pages each day.
Click on the image to head over to the blog post with detailed instructions for each page and to download the printable book.
---
Back to School Math Activities
For Math during the first week, I introduced the children to some of the Fine-Motor and Manipulative Centers. I set out 3 of these during each Math Center time, and the children rotated, so that everyone could get a chance. Click on the picture to go directly to all the printable centers on the products page.
On Monday we did a whole group activity, where the children arranged themselves in order from shortest to tallest. We also used string to measure each child's height, stuck these on the wall, and compared it.
---
Back to School Art activity
For Art this week, I took all the children in front of a mirror and asked them to look at themselves. We then compared our similarities and our differences.
After that, we created a beautiful 'I'm Special' Mirror – each one unique. Click on the image to download the free printable.
---
Cooking
We used square and round crackers as the body and face of the little 'Cracker Kids', Skittles as the eyes and nose and Pretzel sticks as the legs, arms and hair. This was by far the children's favorite activity this week!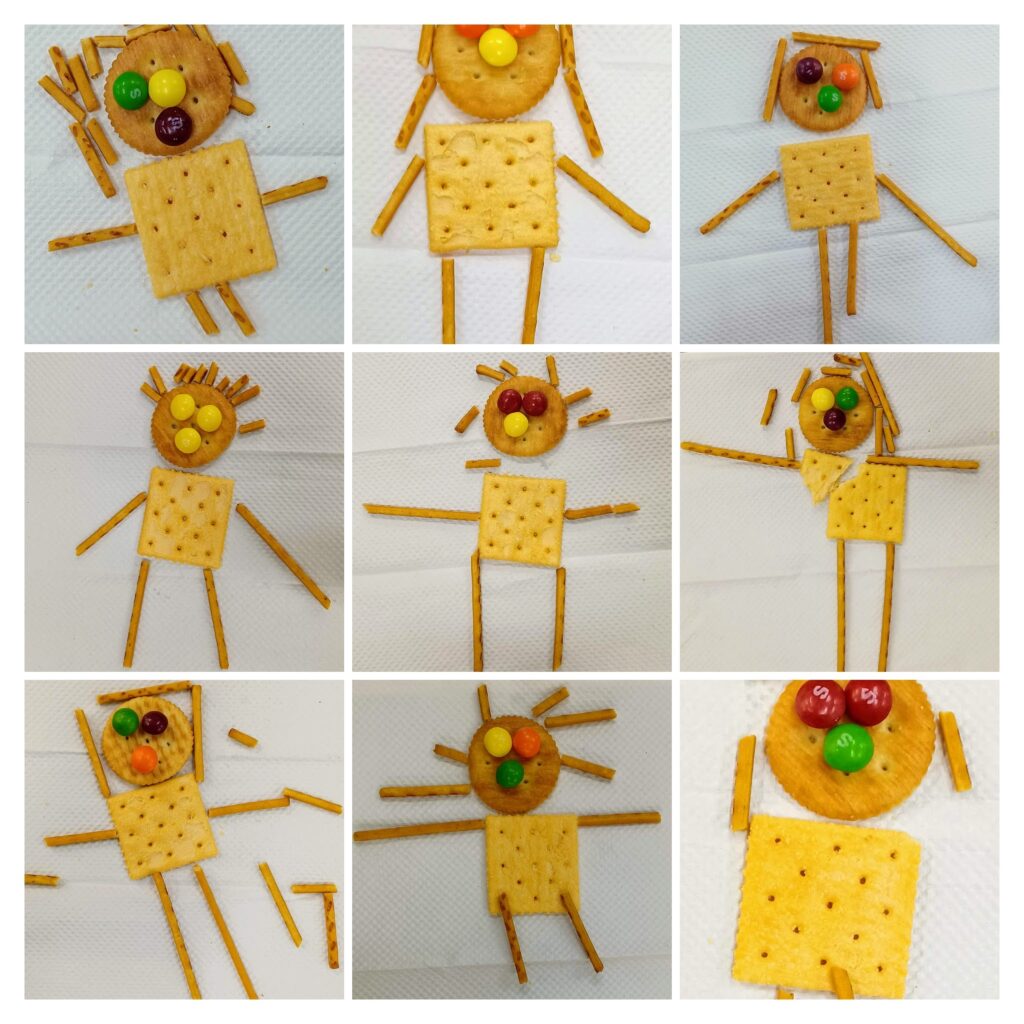 ---
Themed STEM
We watched the read-aloud version of 'I like Myself' by Karen Beaumont and then, using the story as a reference point, the children 'built a face' using lose parts such as buttons, toothpicks, sequence, popsicle sticks, string and anything else you could think of.
Science & Social Studies
In Science and Social Studies, we played a game to recognize that we all sound different, fingerprinted each other and inspected these fingerprints with magnifying glasses, as well as looked at pictures of children with different expressions and tried to copy these, while looking at ourselves in the mirror.
Find EVERYTHING you need for the first week of school by clicking on the image below.
---
That's it for the first week of school. I hope you enjoyed the activities!