The Butterfly & Caterpillar Themed Activities were a lot of fun and the kids had a blast! They loved making stained glass butterflies, learning about the life cycle of a butterfly, eating strawberry butterfly snacks and making butterfly balloons. The Hungry Caterpillar Graphing Activity is great for developing your young learners' counting and memorization skills.
Hungry Caterpillar Graphing Activity
What you need:
Plastic bottle caps
Pictures of the food printed out and laminated
Graphing activity sheets printed out and laminated
How to complete the activity:
For this center I cut the pictures of the food out and stuck it on recycled plastic bottle caps. I put all the caps in a container. The children take turns to grab as many bottle caps as possible, count these and then graph it. When everybody had a turn, I help the children to look which fruit is the most and which is the least. The children then complete the laminated 'More/ Less' sheet using the bottle caps.
---
Click on the images below to download the Butterfly & Caterpillar Themed Math & Literacy Centers, Printables and Activities.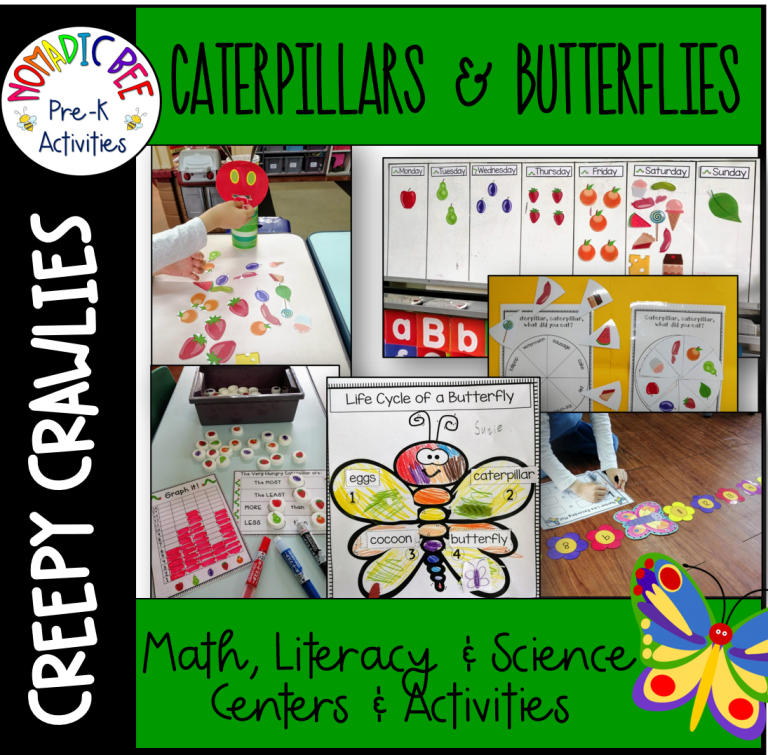 That's it for this week. I hope you and your kiddos enjoyed all the activities and that we will see you back next week.