It's time for some caterpillar and butterfly fun! I have never come across a child that does not love this adoring little caterpillar. This hands-on sequencing activity to The Very Hungry Caterpillar, integrates Art, Math, Science and Literacy. Scroll right down to the end to find a printable pack that includes more Caterpillar and Butterfly Math and Literacy centers and Science Activities.
Sequencing Activity
What you need:
Sequencing activity sheet
Scissors
Glue
Number cards
Story Props
The caterpillar on green paper prepared beforehand (Cut big green poster paper into strips of 8 inches in width. Fold these strips in half and trace 7 circles in a row)
Googly eyes for the caterpillars
A red circle (4 inches in diameter) for each caterpillars face.

How to use this resource:
To kick this very hungry caterpillar sequencing activity of, I read the story or we watch the animated film on YouTube, which you can find here. We then talk about how caterpillars turn into butterflies. The children pretend to be a tiny egg on a leaf, making themselves as small as possible, then hatching and turning into a caterpillar, crawling along. They then go quiet and pretend to be in a cocoon. And then finally, emerge as beautiful butterflies, flying around the room.
I stick the word cards of the days of the week on the board, and hand out the pictures of the food and fruit to the children. As I re-tell the story, the children come up to the board and paste their pictures under the correct day of the week.
Cut-And-Paste Time:
Time to cut and paste! Children cut on the lines of the circles of the pre-pared caterpillars. Make sure they don't cut down the middle of the circle. When they are done, they flip open the top circles. It is now a sort of a flip book. Color and cut out all pictures and words on the sequencing activity sheets
Ask children to find the word 'Monday' by looking at the beginning sound. Children paste the word on the first circle. Now ask the children to find the picture of the red apple, and to paste this under the word. Continue with each day of the week.
Pair the children up and ask them to re-tell the story to each other, using their very hungry caterpillars!
Other Activities
To find some more engaging Caterpillar and Butterfly Math and Literacy Centers, click on the image below, which will take you directly to the product page.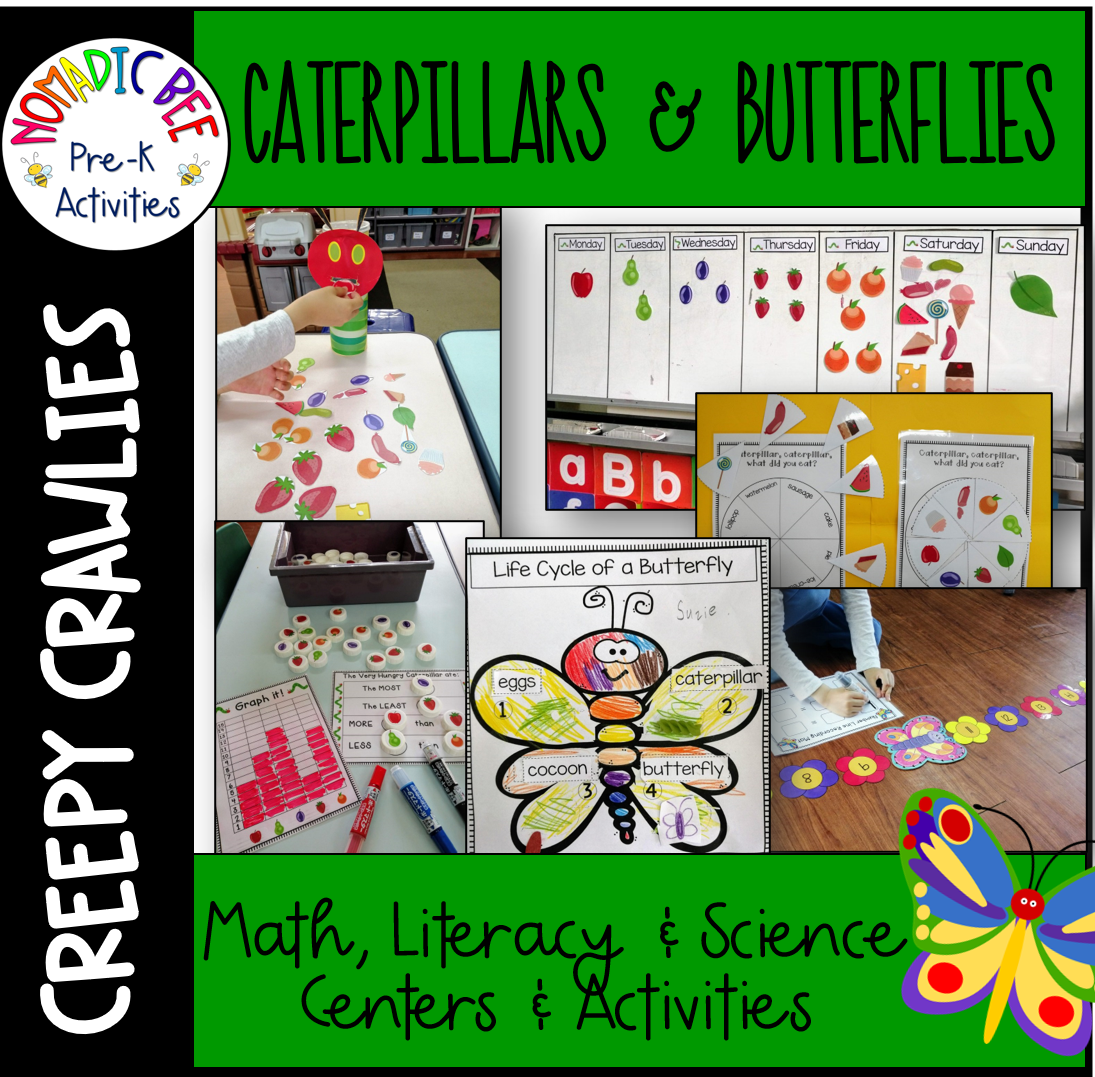 Keep Reading!