This Sense of Touch booklist for kids will go great with the 5 Senses Theme. Children will learn more about how we experience our surroundings with our hands through these beautifully illustrated and engaging picture books.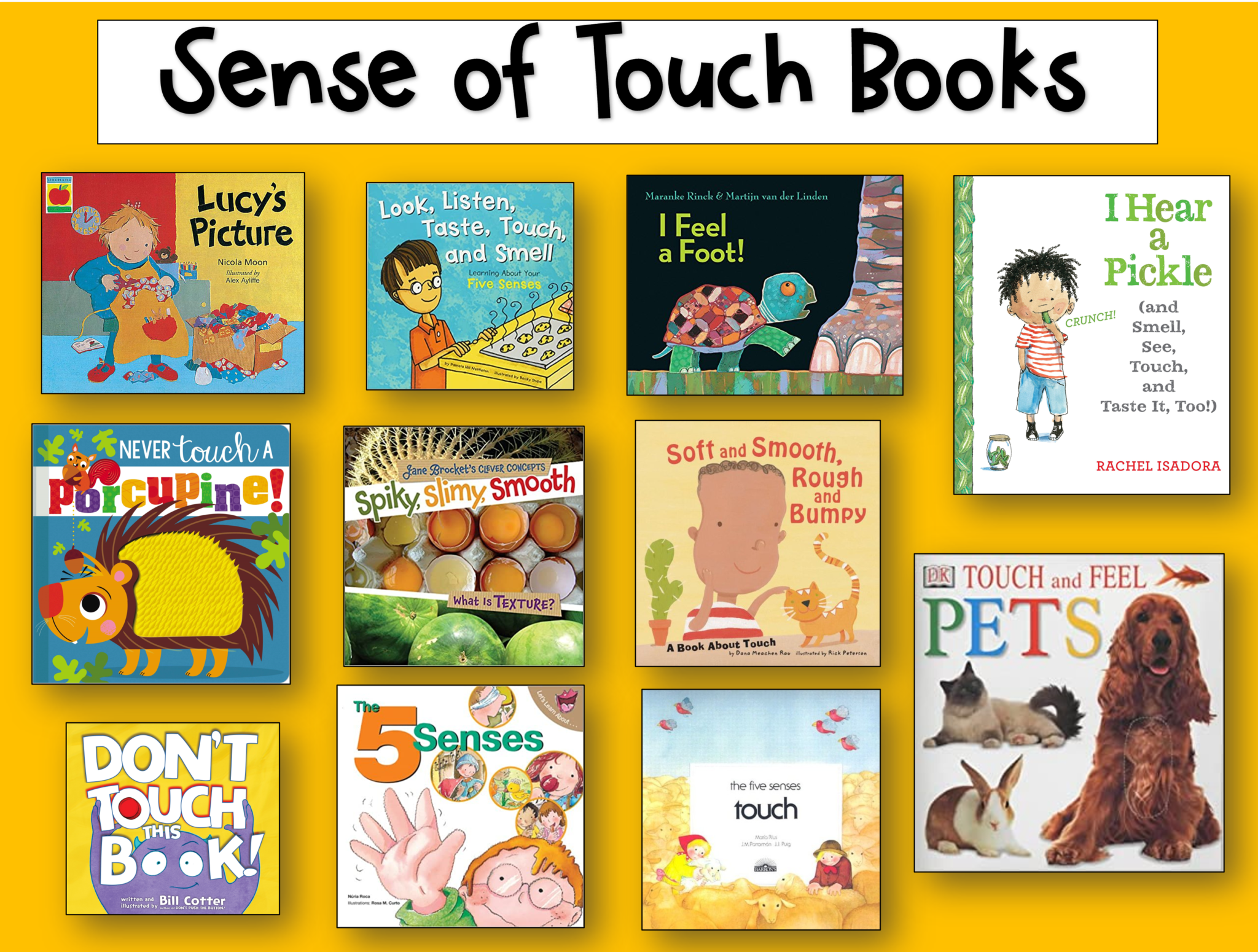 ---
Click on the images of the books to head over to the Amazon Online Store
---
Lucy's Picture, by Nicola Moon
Lucy makes a special picture for her grandpa. He is blind, so she decides to make him a picture with twigs, feathers, velvet and sand. In this way he can feel it with his fingers.
---
Look, Listen, Taste, Touch and Smell, by Pamela Hill Nettleton
Our bodies do all kinds of amazing things such as seeing, hearing, smelling, tasting and touching. In this educational picture book, children are given a colorful introduction to the five senses and the organs that perform these functions.
---
I Feel a Foot! by Maranke Rinck & Martijn van der Linden
Turtle, Bat, Octopus, Bird and Buck are sleeping in a hammock between two trees. Turtle hears something. The animal's imaginations run wild with what may be making the scary sound they all hear. Is it a giant turtle? Or a bird with a giant beak?
---
I Hear a Pickle: and Smell, See, Touch & Taste it Too! by Rachel Isadora
With our ears we hear the birds sing; with our nose we smell the stinky cheese; with our eyes we see the moon and stars; with our skin we feel the rain; and with our tongue we can taste our favorite foods. All 5 senses are delightful.
---
Never Touch a Porcupine! by Make Believe Ideas ltd.
Children will love listening to the funny rhymes that warn of the dangers of touching these dangerous animals, except in this book of course.
---
Spiky, Slimy, Smooth – What is Texture? by Jane Brocket's
Soft, gooey, fluffy, prickly—textures are all around us. There are lots of clever words in this picture book to describe all kinds of textures.
---
Smooth, Bumpy or Rough? by Baby Professor
This educational book will make a great introduction to sense and sensation for kids. Go ahead and grab a copy now.
---
Touch and Feel: Pets, by Dorling Kindersley
Children meet all different sorts of furry and feathery creatures, big and small in this fun Touch and Feel book.
---
Don't Touch This Book! by Bill Cotter
Larry is a loveable monster, but he has trouble sharing. Children will need to show him how it's done with this interactive adventure.
---
The 5 Senses, by Nuria Roca
Two children take delight in discovering the world around them. They suggest exciting activities to learn about the 5 senses.
---
The Five Senses: Touch, by Maria Rius
A colorful book that focuses on the wonders of the sense of touch through easy to understand text for younger readers.
---
Some Awesome Learning Resources and Games All About the Sense of Touch from Amazon 🙂
Cocomelon Kids Sensory Science Kit – 5 Experiments – Scented Dough, Textured Balls and Magnifier.
Sense & Grow Textured Bean Bags
15 Pcs Sensory Mini Mats – Sensory Toys for Kids
---
If you are looking for a week filled with fun Math & Literacy Centers & Printables all about the Sense of Touch, click on the images below.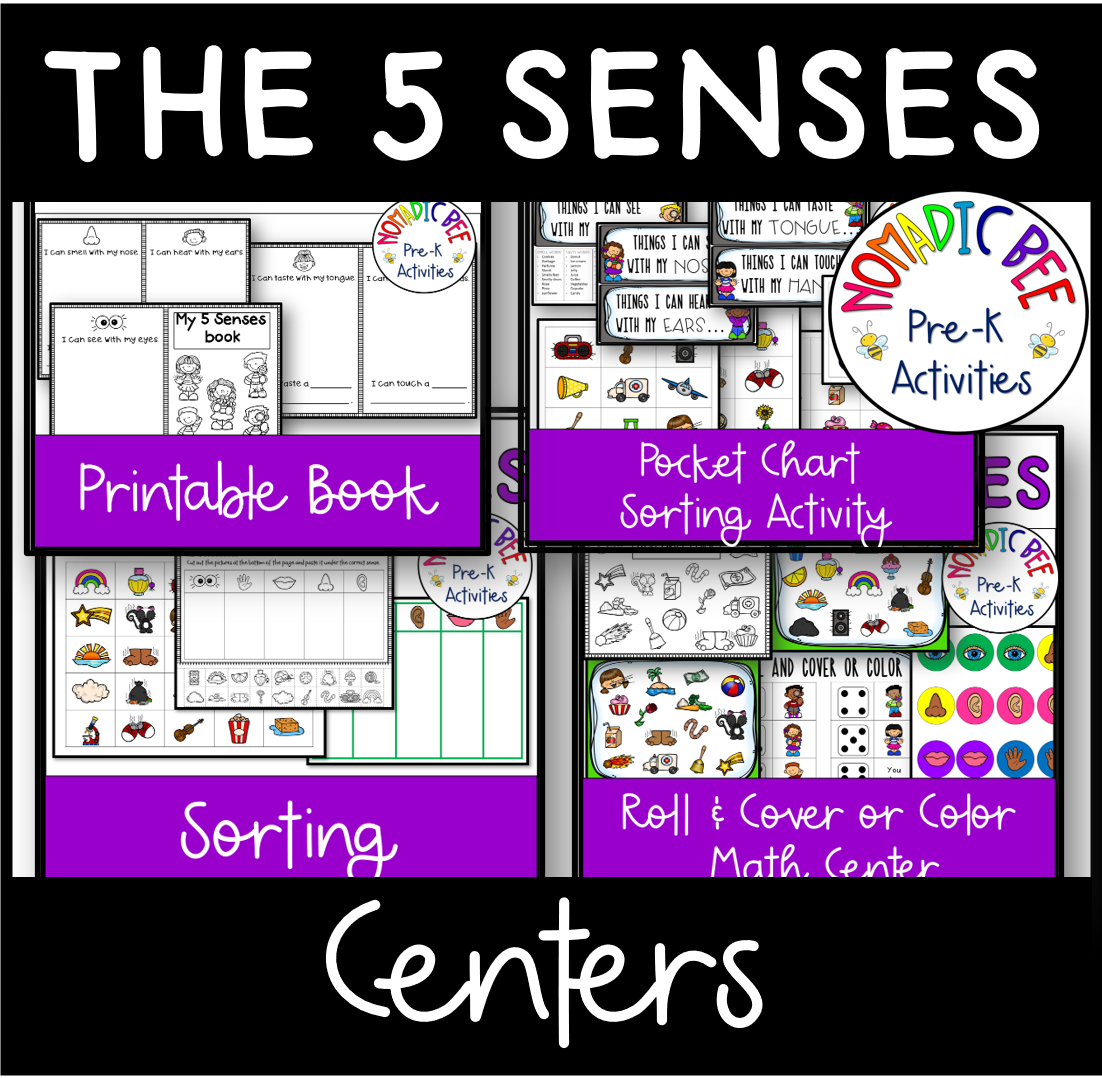 ENJOY!