What better way to learn all about the sense of hearing than through some fun Action Songs & Rhymes?! The songs in this post will get your kids grooving in no time at all.
Ears and Hearing! -Mr. R's Songs for Teaching
---
I Have 5 Senses | Hearing | Jack Hartmann
---
I am the Music Man -The Learning Station
---
Science Five Senses Song: Hearing
---
Five Senses Song | CoComelon
---
Five Senses Song | Song for Kids | The Kiboomers
---
The Animal Sounds Song -KidsTV123
---
Animal Sounds Song! -Kids Learning Videos
---
Roar Like a Lion Children's Song -Patty Shukla
---
Animal Sounds Songs -Super Simple Songs
Find a whole week of Math, Literacy, Science, STEM, Cooking, Dramatic Play, Phonics and Art activities and printables by clicking on the image below.
Or go here for a Free Lesson Plan …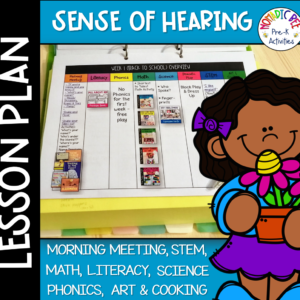 ENJOY!