If you are looking for a fun and hands-on Transportation themed Sight Word activity, you have come to right place! The 'Read it, Build It, Write It Sight Words' center activity is great for improving your young learner's word recognition, letter formation and fine motor skills.
Read it, Build It, Write It Sight Words
This center takes some time to prepare, but the children really love it, and it's a great activity to develop their fine motor muscles, so the time is worth it!
What you need:
Plastic soda bottles (about 30 per set)
Paint (a dark color and white)
Cardboard
Read it, Build it, Write it cards printed out and laminated for re-use
Whiteboard markers
How to use this resource:
Cut the top of plastic soda bottles off and paint the top of the caps in a dark color. When it is dry, write the letters for the words 'look, see, up, red, yellow, blue & down' on top with a white marker and let dry. Cut cardboard into 4 x 12 inch strips and cut 6 circles in each. Place the bottle tops in these circles and use hot glue to ensure it stays in place. The activity is now ready.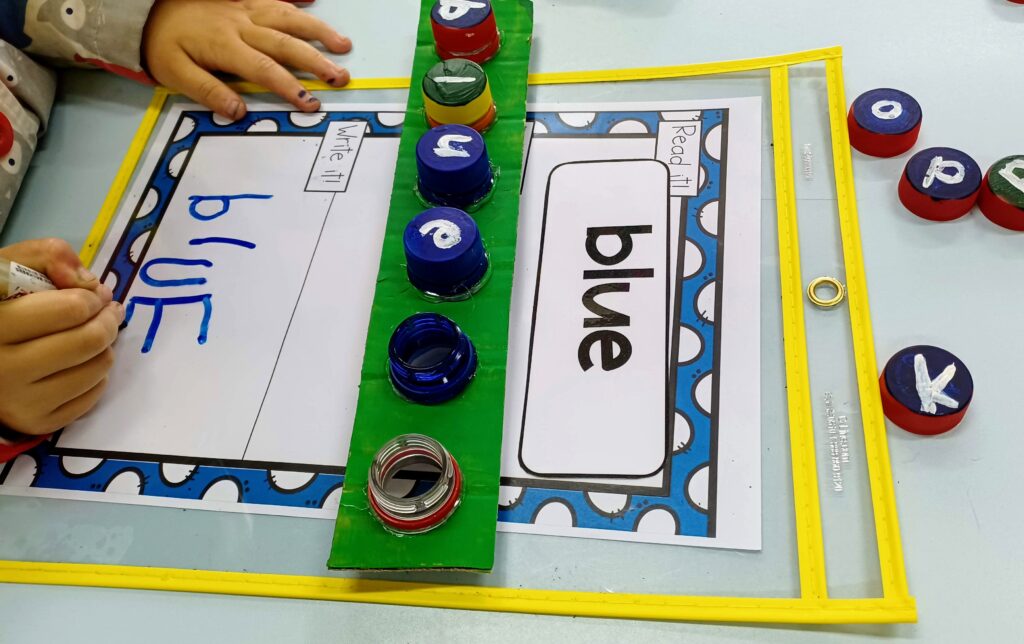 Children look at the word card, use the bottle caps with the correct letters to 'build' the words, then write the word using a whiteboard marker.
Download the activity by clicking on the image below.
For a whole week of Air Transportation themed activities, head over to this blog post or click on the image below to download the printable pack.