If you are looking for a fun and hands-on Air Transportation themed activity, you have come to right place! 'Boarding a Plane' Pretend Play was the best activity of the Air Transportation week by far. The kids wanted to play it all the time. It's very simple to set up and promises hours of fun and learning.
This activity is great for improving your young learner's speaking skills, while also developing their word recognition skills.
Boarding a Plane' Pretend Play
What you need:
A paper passport for each child, printed out and folded in half
An ID sized photo for each child. (if this is not possible, the children can draw a picture of themselves
A stamp pad and stamps
The captain's hat printed out and assembles
Chairs
How to use this resource:
Ask the children if they have ever flown anywhere and if they did, do they know what a passport is. Show them a real passport and talk about all the information on it. Hand out the paper passports and ask the children to draw a picture of themselves in the rectangle, and to write their names and ages as well as choose a random passport number.
Put some chairs in 2 rows next to each other (these are the passenger chairs) and one in front (for the captain). Put 2 tables to the side (one for 'immigration' and one for 'bag check').
Run through the routine of boarding a plane with the children. First, they need to get their passports stamped, then on to the bag check area, where the bag checkers check their bags, and then onto the plane (the air stewards will show them the way).
Once on the plane, the air stewards can walk around and ask the passengers what refreshments they would like, and then it's over to the captain. The children can take turns to play all the different parts (bag checkers, passengers, immigration, captain and air stewards).
Download the activity by clicking on the image below.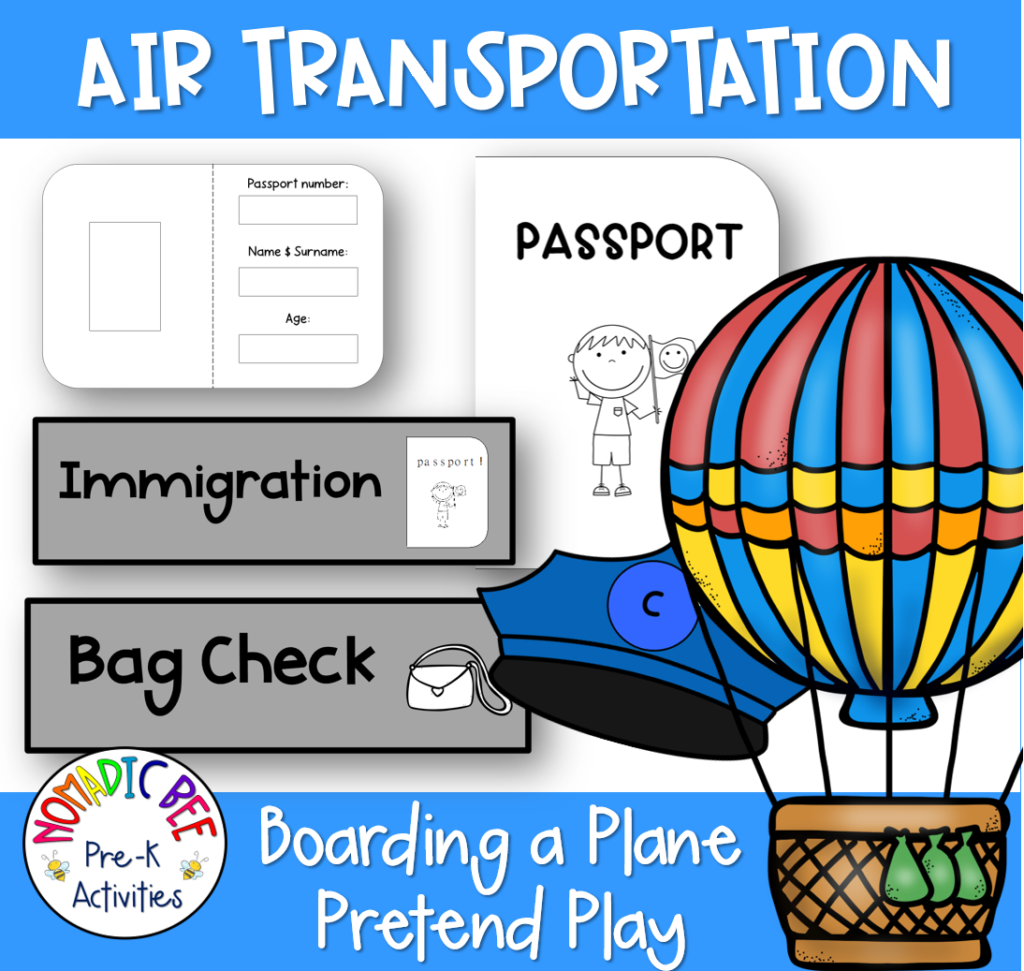 For a whole week of Air Transportation themed activities, head over to this blog post or click on the image below to download the printable pack.